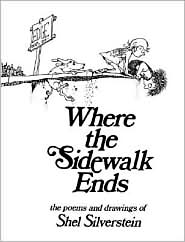 Bibliographic Information
Title:
Where the Sidewalk Ends
Author: Shel Silverstein
Illustrator: Shel Silverstein
Publisher: HarperCollins
Publication Date: November 1974
ISBN:
9780060256678
Plot Summary:

A collection of silly, humorous, and thought-provoking poems for the young and the young at heart. These poems include every day problems such as "
Sick
" which features a young child who suffers from nearly every malady known to man until she discovers that it is Saturday and there is no school - suddenly cured, the young lady informs her mother she is going outside to play; "Ma and God" in which a child bemoans the gifts of God that are thwarted by a mother; visual poetry including a poem written on the neck of a giraffe; "
For Sale
" in which an older brother tries to sell his younger sister; and "
Dreadful
" which tells the unfortunate tale of a baby who has been consumed by some unknown individual.
Critical Analysis:
I admit it. I am a Shel Silverstein addict. I own all of his children's poetry books, and I have an extensive collection of Silverstein reading his own poetry. Heck, I even own the lesser known, more adult musical selections as well.
Warning
: to those who would do an author study on Shel Silverstein - he wrote songs for Johnny Cash (A Boy Named Sue), Dr. Hook and The Medicine Show (Don't Give a Dose to the One You Love Most, I Got Stoned and I Missed It, and Freakin' at the Freaker's Ball among others), and has often been featured for some of his more electic works on the Dr. Demento Show; make sure that websites that you are visiting with students have been previewed for content and material and listen to any audio files - don't trust that because it says "Shel Silverstein" that it is appropriate for younger audiences.
I love Silverstein's twisted look at the world through the eyes of a child. His poems brought me joy as a youngster and I have used them in the classroom to teach a variety of lessons. For example, Silverstein's take on experimentation is discussed in his poem "Stone Telling" (p. 147):
How do we tell if a window is open?
Just throw a stone at it.
Does it make a noise?
It doesn't?
Well, it was open.
Now, let's try another ...
CRASH!
It wasn't!
I particularly love the audio of Silverstein reading this poem (click
here
to listen) because you can hear the joy and laughter as he thinks about the idea of throwing a rock at a window to see if it is open.
Silverstein's point of view on personal hygiene is another example of how adults can speak to children and how children can twist the lesson into someting else entirely. "Warning" is a poem that directly speaks to the taboo of nose picking. Silverstein uses the common adult threat that something will bite a finger if a child sticks it in his nose and creates a whole new animal, both literally and figuratively:
Inside everybody's nose
There lives a sharp-toothed snail.
So if you stick your finger in,
He may bite off your nail.
Stick it farther up inseide,
And he may bite your ring off.
Stick it all the way, and he
May bite the whole darn thing off. (p. 75)
Silverstein continues to appeal to audiences both young and old because his topics are timeless, his poetry is both irrereverent and respectful, and his illustrations add to the color, concept, and development of his writing.


Editorial Reviews:
BfK (Books for Keeps No. 144, January 2004)
These two collections by Shel Silverstein, Where the Sidewalk Ends and A Light in the Attic, were first published in 1974 and 1981 and they have more than withstood the test of time. Silverstein believed in the symbiotic nature of word and image and would not allow his verse to be illustrated by anyone else; reading these collections tells you why. The relationship between illustration and poem makes these books very special. His black and white drawings echo and complement the poems which can be funny, cautionary, serious and sometimes surreal. Silverstein's subjects and thoughts are everything and everyone under the sun, plus a few more. There's the 'Skin Stealer': 'This evening I unzipped my skin / And carefully unscrewed my head, / Exactly as I always do / When I prepare myself for bed.' There's the baby bat who 'screamed out in fright, / Turn on the dark, / I'm afraid of the light.' But, there is also the place 'Where the Sidewalk Ends' 'And before the street begins, / And there the grass grows soft and white, / And there the sun burns crimson bright, / And there the moon-bird rests from his flight / To cool in the peppermint wind.' One, and preferably both, of these poetry books should be part of the canon of children's poetry. Category: 8-10 Junior/Middle. Rating: ****. ...., Marion Boyars Publishers, 176pp; Poetry, D9.99 each hbk. Ages 8 to 10.

Connections:
- Use "Sick" as part of a lesson identifying the various parts of the body
- Use "Helping" to discuss how people can help or not help one another
- Use "Smart" to discuss the various values of money. Did the child win or lose in the end by making those exchanges?
- Use in conjunction with the audio recordings to discuss changes between the print and recorded versions of poems such as "Warning."