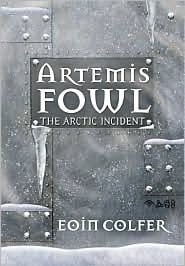 Bibliographic Information
Title: Artemis Fowl : The Arctic Incident
Author: Eoin Colfer
Publisher: Hyperion/Miramax Kid
Pub. Date: May 2003
ISBN-13: 9780786817085

Artemis Fowl, the thirteen year old criminal genius and mastermind returns in this book to rescue his father from the clutches of the Russian Mafiya. However, Fowl's plans run afoul of the LEPrecon forces that seek him out based on curious goings-on in the Underworld. Forced to ally himself with Captain Holly Short and the other magical creatures of the LEPrecon regime, Fowl may not be able to ransom his father in time. This fantasy book transports the reader through the center of the earth and to the Artic Circle. Following traditional fantasy celebrating imagination and intellect this series engages readers both young and old.