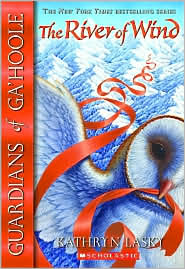 Bibliographic Information:
Title: The River of Wind (Guardians of Ga'Hoole Series #13)
Author: Kathryn Lasky
Publisher: Scholastic, Inc.
Publication Date: July 2007
ISBN-13:
9780439888073
The owls are seeking out a sixth kingdom in this thirteenth book of the series. Following the religious incident with the ember worship which nearly destroyed the colony, Coryn and the Chaw of Chaws have returned order. However the band must seek out the new kingdom when Bess, from the Palace of Mists, discovers the unknown sixth kingdom across the Unnamed Sea. The owls set out on a quest to discover the new land and also to rescue one of the triplets who has wandered astray and been sucked into the River of Wind, unbeknownst to the band. They discover a new group of monastic owls who differ than any others from the Five Kingdoms but the challenge comes from the race against the Purists and their desire to restore the ember. This low fantasy novel features talking owls and other creatures as well as foreign settings and is indicated to appeal to nine to twelve year olds. The owl language can be difficult to follow at times and this doesn't seem to be a good series to start at a midpoint as the previous story lines tie into the current one.