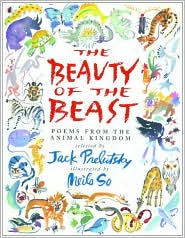 Bibliographic Information
Title:
The Beauty of the Beast: Poems from the Animal Kingdom
Author: Jack Prelutsky (selected by)
Illustrator: Meilo So
Publisher: Alfred A. Knopf
Publication Date: March 2006
ISBN:
9780679870586
An anthology of various animal poems accompanied by beautiful watercolor illustrations discuss everything from insects to reptiles to fish to birds to mammals. Poems are written by a variety of authors including Margaret Wise Brown and Robert Frost as well as Marianne Moore and Jack Kerouac. The end pages are wonderful watercolors that evoke feathers and fur and the cover illustration predates the collection. Ideal for explanation as well as enjoyment, this collection is sure to grab the reader's attention for creatures great and small.