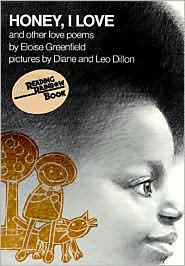 Biographical Information
Title:
Honey, I Love and Other Poems

Author: Eloise Greenfield
Illustrations: Diane and Leo Dillon
Publisher: HarperCollins Publishers
Publication Date: May 1986
ISBN:
9780064430975
This collection of poems written from the point of view of a child discuss the "loves" in her life and the daily activities. From her observations at school "Miss Allen smiled/and blinked her eyes/and plinked the piano/and pushed the pedal/And the pdeal said/SQUEEEEEEEAK!/and we laughed/But Miss Allen didn't" to her expressions of enjoyment at the manner of speech of her cousin from the south "'Cause every wod he says just kind of slides out his mouth." The illustrations of childlike chalk or pencil drawings interspersed with the beautiful charcoals of the young narrator add to the realistic and fantastical elements of the poems. These poems will touch the heart of any child.