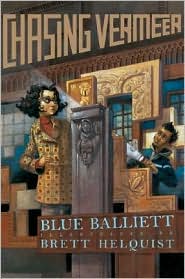 Bibliographic Information
Title: Chasing Vermeer
Author: Blue Balliett
Illustrator: Brett Helquist
Publisher: Scholastic, Inc.
Publication Date: June 2004
Petra Andalee and Calder Pillay sit in the same class but they would never associate with one another until a series of unusual events brings the two into a search for various pieces of art created by Peter Vermeer. However, nothing is as it seems and no one seems to be forthcoming with the truth. Instead the two young sleuths must solve an international art crime using nothing but what they are learning in school, their own skill of logic, and a bit of intuition. This book includes puzzles and various key elements in the illustrations which make it an ideal book for the child who has lost a bit of interest in reading and needs to be inspired to read between the lines - literally. The story is simply engaging and it brings to mind a young, gen X Tommy and Tuppence. Additionally this book offers information and insight into the world of classical art without being overly preachy or educational.